Community associations are a booming industry with tremendous career growth opportunities, financial promise, fulfillment, and job security at any stage in life.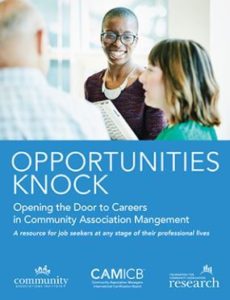 For community association managers or those aspiring to join the field, the most important thing you can do to accelerate your career and increase your earnings potential is to participate in education programs and attain CAI's professional credentials.
Resources for Career Development
View these additional resources for more information on gaining expertise and growing your career as a community association management professional.
How much do community association managers earn?
Here's a sneak peek at the 2021 Community Association Manager Compensation and Salary Survey that will give you an idea of the pay and benefit levels in the community association management industry.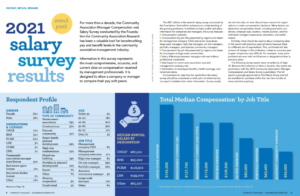 Looking to hire qualified candidates?
Management Company Primary Contacts may post open job positions in the career center. You may also contact a member of the chapter staff to have a job opening posted. There are two job position posting options. Members – be sure to login to receive member pricing:
30 day post
$50 for members ($100 non members)
60 day post
$75 for members ($125 non members)
Looking for your dream job?
Click below to search open positions and for instructions on how to apply.
Students
Considering a career in community association management? Check out our resource page for more information on careers in community association management.